Scientific settlement of Svalbard
We reached Ny-Ålesund on the 19th of July after leaving the first base camp by boat on the way to our second base camp. That evening, we disembarked on the Kongsfjorden, right in front of the town, which could only be seen with the naked eye from a specific point on the small hills above the camp.
The settlement
Ny-Ålesund is different from the other two towns we visited: Barentsburg and Longyearbyen. Barentsburg is surrounded by a sad silence whereas Ny-Ålesund is engulfed by the calm atmosphere of scientific enquiry and experimental research in the Arctic.
It is one of the nothernmost settlements lying at the 78°55′ parallel.
This settlement appears much more organized than the others in its layout. Roads are not covered with tarmac.
From the port you take the main street which leads you to a monument dedicated to Roald Amundsen which can be reached by passing through the museum.
From there we reached the docking post where the airship of Italian construction "Norge" is moored. With it, Amundsen and Umberto Nobile flew over the Pole in 1926.
Further out of town, it is possible to see a memorial dedicated to people who died during the expedition of the airship "Italia" in 1928. During the rescue operation 9 people died. Close to the memorial, there is a monument dedicated to the expedition of Amundsen, who together with Dietrichson, Ellsworth, Feucht, Omdal and Riiser-Larsen set out on two aircrafts on the 21st of May 1925.
There we saw a reindeer grazing.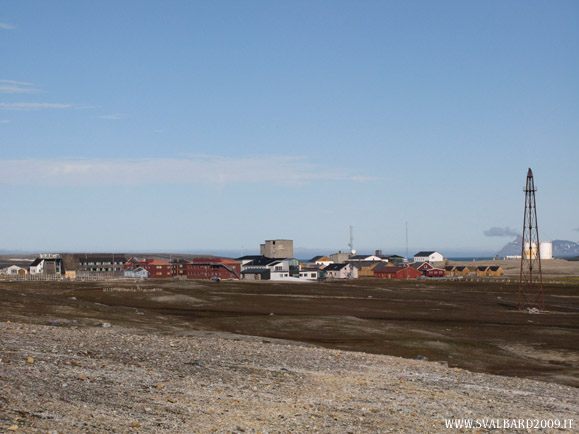 Ny-Ålesund – View of the city by the monuments
Museums and accommodation
In Ny-Ålesund there is a mining museum with mineral samples and scene reconstruction of life working down the mine.
You can stay at the Nordpol Hotellet.
Comment this page
Do you want to leave a comment to this page? Write your impressions and questions about "Ny-Ålesund".
No Comments »
No comments yet.
RSS comments feed on this page. TrackBack URL
Leave a comment