The major town of the Svalbard islands
To get to Svalbard I took a flight from Oslo which landed at the small airport at Longyearbyen. A bus took me to the guest house where I stayed.
The settlement
Longyearbyen is the principal town of Svalbard. Just outside the airport we passed through some building sites and then took a road leading to the actual settlement.
We could see some houses with pointed roofs and others with flat roofs. A long road leads to the town centre and guest houses. Mines can be seen on both sides of town.
All around there are dozens of snowmobiles waiting to be used for winter.
In the centre of Longyearbyen there is a monument dedicated to a mine worker. This reminds one of the hardship endured by those working in the coal mines.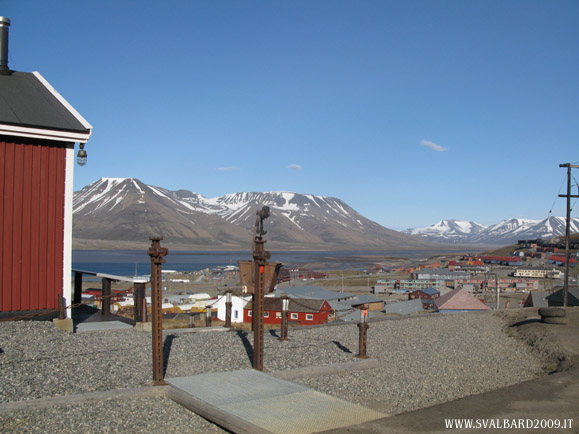 Longyearbyen – View of the city by the mine
Hotels and clubs
Longyearbyen has many hotels and places in which to stay. We were at the Spitsbergen Guesthouse, which is housed in a complex consisting of a main building (where the office and the breakfast room are located) and six detached buildings used as guest rooms.
There are many clubs in which you can dine. A couple of times we went to the Kroa: a beautiful, rustic place with a wide choice of food.
Shops and supermarkets
In the centre of Longyearbyen there are shops where you can buy souvenirs or sport and mountain equipment.
For everyday shopping you can go to Co-op Svalbard (Svalbardbutikken). Here you can buy stamps and postcards to send from the nearby post office.
Museums
During our short stay at Longyearbyen we visited two museums: the Svalbard Museum and the Spitsbergen Airship Museum.
The Svalbard Museum is inside the Svalbard Science Centre. This museum is devoted to the culture, history, nature and sciences of the Svalbard islands.
Visiting this museum was very interesting. Here you can learn a lot about animal life, work in the mines, minerals and historical handicrafts.
The Spitsbergen Airship Museum is close to the church and is dedicated to the three Polar expeditions by airships: the airship "America" in the period between 1907 to 1909, the airship "Norge" in 1926 and the airship "Italia", led by Umberto Nobile in 1928.
Here you can immerse yourself into the history of this place. There is a large quantity of historical objects such as books, newspapers, stamps, videos and other items which belonged to explorers.
Comment this page
Do you want to leave a comment to this page? Write your impressions and questions about "Longyearbyen".
No Comments »
No comments yet.
RSS comments feed on this page. TrackBack URL
Leave a comment