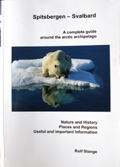 I've bought this book in the Spitzbergen Airship Museum (it was less expensive, there) in Longyearbyen. As you can see in the subtitle, it's a complete guide to the arctic archipelago of Svalbard islands.
The book talks about nature and history, places and regions and gives you useful and important information about these islands.
The author is Rolf Stange, psysical geographer, who passed 12 years in the archipelago, studying its every feature.
It's a perfect guide for whoever wants to delve into Svalbard's topic. A sort of little encyclopedia about this wonderful archipelago.
The book has many colour pictures, about places, animals and plants got throughout Svalbard. An excellent reference book for whoever wants to start a trip to Svalbard and a good source of memories for Svalbard's veterans.
Spitzbergen – Svalbard by Rolf Stange
540 pages
First edition: May 2008
Comment this page
Do you want to leave a comment to this page? Write your impressions and questions about "Spitzbergen – Svalbard by Rolf Stange".
No Comments »
No comments yet.
RSS comments feed on this page. TrackBack URL
Leave a comment