15 november 2009: the Spitsbergen Airship Museum, the museum in Longyearbyen dedicated to the polar explorations, is now one year old.
In total we have had 3 600 individual visitors. We consider this quite good considering 2009 has been our first year.
[…]
Because of Hallvard Stangeland's work we know that the majority of the visitors are from Norway. Germany is doing second best with 403 visitors. Third is the international group which means people from outside Europe, Australia and USA, a total of 382. Italy is third as nation with 285 visitors.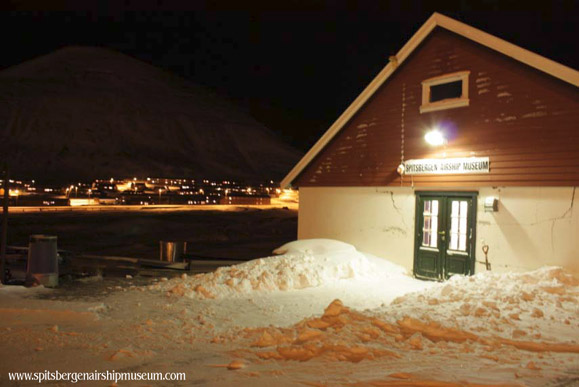 Spitsbergen Airship Museum in Longyearbyen
Comment this page
Do you want to leave a comment to this page? Write your impressions and questions about "Spitsbergen Airship Museum: 1° anniversary".
2 Comments »
Were any of the great polar expeditions of the 19th century to discover the Northwest Passage or the North Pole launched from Svalbard?

Comment by Paul Ackerman — June 8, 2010 @ 4:51 pm

Hi Paul,
I think so. Amundsen and Nobile started theri expedition to North Pole from Svalbard. Read something about Ny-Ålesund and see some pictures of the monuments dedicated to the expedition of Amundsen.

Comment by Polar bear — June 8, 2010 @ 5:10 pm
RSS comments feed on this page. TrackBack URL
Leave a comment